Welcome to the ultimate in protection from the elements: the WINTR Fairing Kit.  WINTR stands for Weather-Inhibiting 'N Travel Ready.  When the shelter provided by a time-tested Windwrap fairing combines with the easy to install and easy to transfer mounting hardware from T-Cycle, you have a system meticulously designed to keep you on the road no matter what the weather is doing.  Utilizing the power of T-Cycle's exquisite CNC machining, the mounting hardware is stronger and simpler to use than ever before.
The WINTR Fairing Kit includes a fairing along with all the mounting hardware needed to mount it to your bike or trike.
When choosing your Clamp Size, it may help to measure the diameter of your boom using our Tube Measuring Tool, which you can find here: www.t-cycle.com/tubemeasuringtool


Customer Reviews
03/01/2020
Warren L.
United States
The Ultimate Season Extender
Of all the T-Cycle accessories I have, this is probably my favorite! Very easy to install and remove. Just make sure to order the correct size boom clamp, and take the time to carefully make the fit adjustments. As I've found with all Terra Cycle products, the accompanying instructions are very detailed with excellent photos.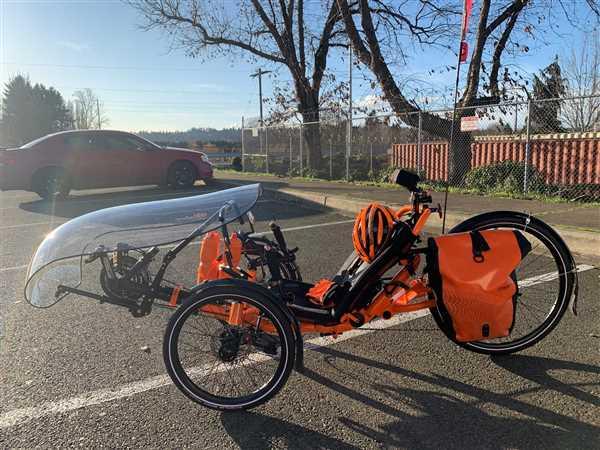 Doesn't get any easier than this!
T-Cycle has made mounting a fairing a real piece of cake. Just get the right clamp size for your boom, and follow the installation video. When it comes time to mount the fairing itself, follow their advice and get a friend to help tweak the positioning while you sit and pedal backwards in place. Once it's set, you are done! I have this mounted on my 2-wheeled recumbent (Azub Mini) which I've never seen with a fairing in all my online searches, so that's a testament to how flexible the WINTR mount system is. If you want a fairing on your recumbent bike or trike, this is a real no-brainer.
Fantasic
I watched the TerraCycle video and was impressed, Caz emailed me to tell me stock had been dispatched to ICLETTA which I ordered and the fairing arrived within 3 days, great service from Kirk. The frame/ bracket design is superb. Fitting the fairing to my ICE Adventure HD was some easy (do watch the video) which also means removal in spring will be easy, I bought the protective cover to keep the fairing in good condition. I have a disability with balance, getting on and off the trike is no problem. Just been for a short ride 3 miles and it's very cold today here in the UK (3degrees C) and I am happy to say my legs and feet are not frozen which means I am going be able to ride through the winter months, it's important for me to keep exercising due to the disability.
Awesome upgrade!
I emailed T-cycle and found out the new WINTR mount would be offered as a retro-fit for the old fairing mounts! I ordered immediately, and it is an excellent upgrade. Very easy to install, and I am really impressed! Quieter, stiffer, and all around a great improvement. Also, looking forward to Spring! Just remove two bolts to remove the whole fairing and mount for good weather, leave the clamp on the boom, and next Fall, two bolts re-mounts the whole thing..... Awesome!
Super Easy! Super Cool!
Total Process: 1) Watch the video 2) Order fairing 3) Receive fairing (VERY fast) 4) Familiarize yourself with parts in fairing kit, everything (except tools) is included 5) Watch video WHILE assembling fairing 6) Tweek fairing clearances 7) RIDE! It REALLY is just that easy! If you watch video WHILE assembling, the whole assembly takes about 1/2 hour. Tweeking adjustments may take a few rides to get it setup exactly right, but once it's done, it's set. Fairing comes on and off just as easily. Parts are well made and fit is nice, tight and secure. Ordering, shipping and receiving was done in less that a week.