With a CNC-machined 7075 aluminum cog and bearing carrier, fiberglass reinforced nylon 6/6 sideplates, and high performance ABEC-7 bearings, the SportPlus Power Idlers from T-Cycle are the sleek, beautiful, light and quiet must-have upgrade for your chainline.
Customer Reviews
02/04/2021
shaun

United States
PERFECT FIT WITH SPACER MOD
the Sport Plus 15 Tooth Power Idler is a perfect fit for my electric trike. I had to make a couple of custom spacers to make it wider to be compatible with 410 chain. The bearing is rated at 3500 rpm and if tensile strength of the 7075 alloy sprocket is UN-tempered it is 40,000 psi which is more than enough to handle my 72v 3000w motor. the sport plus should be very durable for my application https://en.wikipedia.org/wiki/7075_aluminium_alloy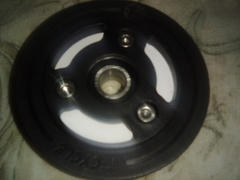 02/03/2021
Jack H.

United States
Sportplus 15 for an older Lightfoot Ranger
This is my 3rd recumbent that benefited from new idler wheels by T-cycle. They quietly do the job for which they were purchased and customer service at T-Cycle helped make sure that I purchased the correct ones. I'm not sure it they have any competition but I'm a loyal returning customer and will continue to chose their products.
12/09/2020
John w.

United States
Sport idler
It doesn't get any better than this
12/02/2020
Jay M.

United States
smooth
Far better than stock. Would be nice if offered in steel for hi power ebikes. value is fair
07/27/2020
Michael B.

United States
You're The Best
Excellent design, beautifully made. I'm always proud to put your idlers on my builds. Your idlers have made several builds possible that otherwise would have had hopeless driveline conflicts. Terracycle is my favorite go to solution for driveline alignment and clearance issues.