Note: Manyways Clamps are plenty strong for holding accessories, but they are NOT strong enough to serve as an exit assist.
Customer Reviews
07/27/2021
Gerald S.

United States
Anyways Clamp (QR)
Incredibly good quality and does exactly what I need it to do without worrying that it will break and drop my accessory.
06/03/2020
John P.

United States
Not so many ways
I thought there might be more options for the alignment of the clamps. Main issue, and I knew this ahead of time, is that it would be more useful to me if the bolt clamp was 3/4".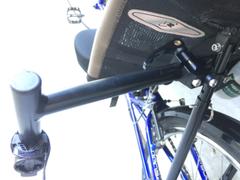 Hey John, Sorry to hear the clamp isn't delivering. What is it you're trying to do here? We might have other ways of helping out! Yours, Caz
03/05/2020
Maryann K.

United States
Manyway clamp
As always I received the item fast. I wasn't sure if the clamp would work and was asured that I could return it. The clamp works great for what I needed. I'm sure I'll be ordering something else.