Welcome to the ultimate in protection from the elements: the WINTR Fairing Kit.  WINTR stands for Weather-Inhibiting 'N Travel Ready.  When the shelter provided by a time-tested Windwrap fairing combines with the easy to install and easy to transfer mounting hardware from T-Cycle, you have a system meticulously designed to keep you on the road no matter what the weather is doing.  Utilizing the power of T-Cycle's exquisite CNC machining, the mounting hardware is stronger and simpler to use than ever before.
Please contact us if you are installing this mount onto an HP Velotechnik trike.
The WINTR Fairing Kit includes a fairing along with all the mounting hardware needed to mount it to your bike or trike.
When choosing your Clamp Size, it may help to measure the diameter of your boom using our Tube Measuring Tool, which you can find here: www.t-cycle.com/tubemeasuringtool


Customer Reviews
01/04/2021
CHI-FANG W.
Taiwan
SERVICE
Receive the replies quickly.
08/27/2020
Barry N.
Australia
Fairing
Top product, well made and excellent product
04/16/2020
David H.
United States
A typically high-quality product from T-Cycle
The fairing is extremely well made, easy to install, and exactly as described. That being said, it's been a bit of a task to get it adjusted to my particulars. I'm a short guy (5'6") riding a "down-low" Catrike Expedition. and I am still trying to get the best set up so that it clears my feet and knees and I can still see over it. It does indeed help to keep my lower-body warm whilst cycling in Minnesota "Spring" weather even if I can't see as well as I might.
02/29/2020
Warren L.
United States
The Ultimate Season Extender
Of all the T-Cycle accessories I have, this is probably my favorite! Very easy to install and remove. Just make sure to order the correct size boom clamp, and take the time to carefully make the fit adjustments. As I've found with all Terra Cycle products, the accompanying instructions are very detailed with excellent photos.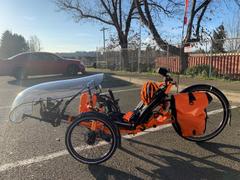 Doesn't get any easier than this!
T-Cycle has made mounting a fairing a real piece of cake. Just get the right clamp size for your boom, and follow the installation video. When it comes time to mount the fairing itself, follow their advice and get a friend to help tweak the positioning while you sit and pedal backwards in place. Once it's set, you are done! I have this mounted on my 2-wheeled recumbent (Azub Mini) which I've never seen with a fairing in all my online searches, so that's a testament to how flexible the WINTR mount system is. If you want a fairing on your recumbent bike or trike, this is a real no-brainer.