With a CNC-machined 7075 aluminum cog and bearing carrier, fiberglass reinforced nylon 6/6 sideplates, and high performance ABEC-7 bearings, the SportPlus Power Idlers from T-Cycle are the sleek, beautiful, light and quiet must-have upgrade for your chainline.
Customer Reviews
Power idler
Very good and well build
04/05/2022
Cheyne S.

United States
Rans Vivo Chain Idler Kit
My overall experience was FANTASTIC. I reached out to TerraCycle and asked about a Rans Vivo chain idler kit because, the frame is relatively close to a V-Rex, but I did not see a kit specific to the Vivo. Aaron, at TerraCycle was wonderfully patient and detailed. He asked to photos, measurements, and details about the frame and hardware that held the stock idlers. I provided all the requested information and Aaron collated all the parts and emailed me an order invoice with everything in it. After a couple clicks, it was on its way to me. Aaron said that once I had the parts, to reach out and he will provide detailed installation instructions. And, he did exactly that! It was a fantastic experience to receive this kind of expertise and guidance.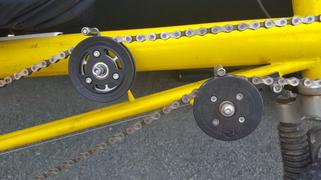 11/03/2021
Steven T.

United States
I will let you know in 10 years when I have some miles on it or if it fails soon right now it's just a power idler so I'll leave a middle of the road review. The reason I'm leaving a middle of the road review is you told me I would need a press to replace the bearings during a tour so it's not exactly road repairable.
Hey Steven, Failures are so rare that there shouldn't be any need for road repairs on the idler. If you're using this in lieu of the stock ICE idler, then it should be held in such a position that both the idler and the bearings last a long, long time. If you do run into troubles, please contact us to let us know. Otherwise, I look forward to seeing this rating changed to five stars in ten years ;)
09/02/2021
Peter H.

United States
Wrong choice?
Only 20° change of direction. Very noisy maybe increase chain tension?
08/16/2021
CARLOS M.

United States
Idler pulley help
Great technical support in helping me find this idler pulley for a customers Catrike. We will definitely be using T-Cycles services again for our recumbent parts needs.