With a CNC-machined 7075 aluminum cog and bearing carrier, fiberglass reinforced nylon 6/6 sideplates, and high performance ABEC-7 bearings, the SportPlus Power Idlers from T-Cycle are the sleek, beautiful, light and quiet must-have upgrade for your chainline.
Customer Reviews
07/27/2020
Michael B.
United States
You're The Best
Excellent design, beautifully made. I'm always proud to put your idlers on my builds. Your idlers have made several builds possible that otherwise would have had hopeless driveline conflicts. Terracycle is my favorite go to solution for driveline alignment and clearance issues.
05/22/2020
Dwyne P.
Canada
It's made my ride better
Smoother shifting Less drivetrain noise No weird little noises Seriously butter smooth operation. A year ago I had some harsh words to say about my two previous Idlers. Both wore down in ways that I found unacceptable. These guys read what I said and reached out to see if they could make changes to improve things. In the year of flipping email and photos of shattered gear to them I've become aware of their incredibly awesome desire to understand failure and improve both their products and the customer experience. I'd give their response 100/10. Seriously dedicated. And and now, with 1,137 Km on the new elite, I'm a dedicated and very happy customer. Failure happens, great service takes hard work and these guys know how.
05/20/2020
Bill M.
United States
Technically possible to wear it out...
In July 2010, I bought a Sport Over/Under Idler for my Bacchetta. Then I ignored it for 10 years and 20k miles. Did my annual chain replacement last weekend, and noticed I'd worn out the cog in the idler. The teeth were down to sharp points. Thought about it and realized how long it had been on the bike. In the time I've been using that one idler, I'm on my: 9th chain 2nd cassette 3rd set of derailleur pulleys 2nd set of wheels (and countless tires) 2nd seat back bag 2nd flag Gotta say I'm impressed with the idler. Took a picture of the cog and sent it off to TC, just for fun. Caz is sending me a new cog/carrier/bearing assembly, gratis! Thanks, Caz. Love your stuff! Bill Marty Seattle, WA See ya down the road :-)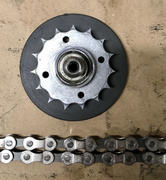 05/03/2020
Trisled .
Australia
Sportplus idler rocks
Fantastic. Rolls silently, lasts forever. What's not to love