Easy Knees Crank Shortener (Each)
Many bikes and trikes are equipped from the factory with 170mm or 175mm cranks.  These are great for the long-legged or those of us with super human kneecaps, but for most people, they are just too long.   Easy Knees Crank shorteners allow you to effectively shorten your crank arm length and experiment to find out how much shorter works for you.  Crank shorteners can also be used to accomodate legs of different lengths.
If your legs are the same length, but maybe your knees aren't as good as they used to be, a shorter crank arm can help alleviate some of the strain.
These crank shorteners are designed for use by adults and for use with modern cranks with curvy, shaped arms.  The unique design of the side anchors makes them both very strong and able to handle any crank size and shape, even really wide or really curved ones. The side anchors that lock to the crank are super heavy duty to handle adult pedaling loads and have a very wide (22 to 44mm) adjustment range. The adjustment is both simple and very positive.  This feature is what drove us to make crank shorteners. No other crank shortener can handle the range of crankarms or pedalling forces that these can.
 If you have one bad knee or have limited range of motion in just one leg, check out our Easy Knees Pedal Swing.  It is designed to help you find the right pedal stroke for each leg instead of compromising on a single adjustment that doesn't truly fit either leg. With a pedal swing, even though both legs are the same length, they can each have different range of motion.
Black anodized and laser marked. Stainless crank attachment bolts are made in house.
Customer Reviews
04/24/2021
Luke A.

Australia
01/07/2021
Rodney S.

United States
Excellent product
I bought a matching pair of crank shorteners for my first trike, a new Expedition. I am 5'6" with a short inseam so whatever crank size a trike has I, like any other shorter person, am forced to bend my knees at greater angles than someone taller because of how close the boom has to be moved towards the rider. Combine that with a recent total knee replacement and the other knee needed ASAP, well pedalling my new trike on a trainer in the living room made me realize I should have ordered shorter cranks. These cranks solved a few problems! I was able to install them myself and adjust the length I needed (the first setting works well for now, what a diffetence!) saving a lengthy wait and expense at my bike shop. The quality is superior to all others I have seen that look like they are meant for kids to attach to adult bikes. And, even though I have a new knee joint, I still have a rotten one that will benefit from these cranks that can be shortened even more, should I need to over the next year or so until the next knee replacement. Yes, they are about twice the price of the kiddie crank shorteners, but they are hand made in America, they fit a wider variety of cranks and they feel and look as though they will last the life of the trike, maybe my life. Well done, Terra Cycle
KW
12/02/2020
Kaleigh W.

United States
Easy install great product
Love these crank arms since you aren't stuck with one position. You can try different crank arm lengths until you hit the sweet spot
10/02/2020
jeannine b.

United States
This thing makes so much sense..
I don't know why I didn't think of this. The second i put my foot on the new, shorter crank I knew this was the right thing to do. It makes a difference. I can go the same distance at a faster time and with less effort. I'm not The Flash but it does make a difference.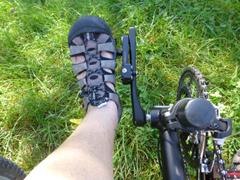 09/23/2020
Jean M.

United States
Crank Shorteners
I ordered and installed 2 crank shorter red. One for left side and one for the right side. My knees do not kick up as much and the shorteners provide much comfort with my knees and a smoother ride! Easy install and 4 or 5 holes to choose from go place the pedal. Very happy with my purchase!!!