Easy Knees Pedal Swing and Crank Shortener Kit (One Side)
Pedal Not Included
Do you have a "bad" knee?  Maybe one leg just doesn't have the same range of motion that the other leg does.  The Easy Knees Pedal Swing is designed to help you find the perfect adjustment for each leg, instead of compromising on an adjustment that isn't really perfect for either leg.
The Easy Knees Pedal Swing comes as a kit, including one crank shortener and one pedal swing.  Pedal swings are NOT used in pairs.
It's kind of hard to imagine how the swing works, but if you've ever noticed that it's hard for one of your knees to bend as far as the other one or you've noticed that one knee has a hard time straightening out all the way, this is for you.  This allows you to maintain a "normal" pedal stroke on your "good" leg, and a modified pedal stroke that will be more gentle for your other leg.
Feel free to reach out to us with questions.
Customer Reviews
05/07/2021
Ralph C.

United States
Works wonderfully
For the most part, I am quite pleased with how much it helps with my problem of limited bend in my right knee. The only thing that would make it better for me would be that I could set it up so that the crank was shortened only about an inch, and I can't see that to be a possibility.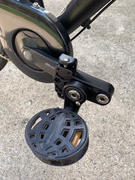 03/24/2021
Heidi P.

United States
It works!
It's kinda weird but it works. It's installed on a rad mini e-bike.
02/03/2021
Kenneth S.

United States
Hope has returned
After not being able to pedal a bike for nearly 17 months after knee replacement surgery, the pedal swing has me back on my bike. It's amazing. Even with limited flex, I am able to pedal comfortably and my knee flex is actually improving with use of the pedal swing.
11/03/2020
Tom J.

Canada
Crank shorteners and pedal swing
Shortened cranks are sought after by many recumbent cyclists. In my case after knee replacement surgery I am left with much less range of motion. The pedal swing or pendelum works great, it allows the full bottom stroke of the crank and a reduced knee bend at the top. Spinning with the pedal swing is totally natural feeling.
10/29/2020
DougD

Canada
Pain Free Riding
Just got this product last week. Easy to install and well made with nicely machined and anodized aluminum parts and stainless hardware. I haven't been able to ride a bicycle without knee pain for over 10 years and the pedal swing helps a lot. The sensation of a shorter crank throw on one side is weird at first but you quickly get used to it. It's the end of the riding season now but I'm looking forward to using this quite a bit next year. Thanks!