An extended version of the Double-Ended Clamp, this clamp reaches places that no Double-Ended Clamp has ever reached before, while sharing all of the same qualities that we know and love. These clamps measures 5" from the center of one clamped tube to the center of the other clamped tube.
The same-sided bolt setup means that installation is a breeze, because you don't have to remove other things from your tube. The high surface area of the Extra Long Double-Ended Clamp's grip securely clamps into place, holding any accessories or mounts wherever you want them to be.
FAQ
1. What an odd shaped clamp. How does it work?
This clamp is designed to be a low clearance, medium duty clamp that's easy to install. The sides just pop apart and you put the clamp where you want. Usually, all you have to do is temporarily remove the bolts to wrap the clamp around a tube.
2. What can I hold with it?
Any round, straight tube that is the right diameter. We an ever-growing library of clamp sizes. It's important the tube is straight for the 1/2 inch (12.7mm) where the clamp is attached. The tube can curve around in other places, but where the clamp is attached needs to be straight.
3. How strong it it?
Pretty strong, we call it medium strength. It's designed for versatility and ease of installation more than maximum strength. It's designed to hold  accessories (under 5 lbs, 2kg or so). It definitely not designed for attaching critical things like steering components, heavy accessories, or exit assist handles. What it can handle strongly depends on the amount of leverage you put on it of course, so the overall design matters a lot. It is possible to boost the strength considerably by using a pair of clamps spaced apart from one another, we do that on some of the SeatSide Mounts.
4. Can I use it on things that aren't the "proper" size?
Unfortunately, no. For the clamp to grip well, it needs to be gripping something that is round, straight, and the rated size. Fortunately, that is usually possible.
ADDITIONAL INFO
Clamp measures 5" from the center of one clamped tube to the other.
Machined from 6061 aluminum, anodized black. Available in two sizes, be sure to use clamps sized exactly for the tubing you wish to clamp.
7/8" (22.2mm) to 7/8" (22.2mm) clamp weighs 112 grams. 1" (25.4mm) to 7/8" (22.2mm) clamp weighs 104 grams. Anodized black coating, stainless steel hardware.
Installation is simple.  Temporarily remove the bolts, put the halves of the clamp around the tubes, and reinstall both of the middle bolts. With the middle bolts tightened lightly, you can adjust things around  to where you need them. When things are where you want them, add the outer bolts and tighten things up.
Fits many places where you would like to clamp two tubes so they are parallel to each other.
Customer Reviews
Extra Long Double-Ended Clamp
Did just what I wanted it to do. Beautiful finish and excellent quality.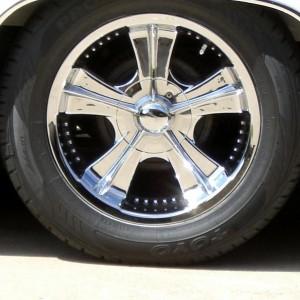 DW
04/13/2022
David W.

United States
Modifying a canopy mount
NICE stuff, everything goes together well
03/28/2022
Phil

United States
Great products and customer service
We have ICE and Greenspeed trikes. I have recently ordered two Many-Way clamps two, 2" C-C, 4-bolt clamps for 7/8 tubing, one 5" C-C 4-bolt clamp and some 7/8" aluminum tubing. All the orders were shipped promptly and arrived OK, except one held hostage by USPS for about 10 days. These clamps were used to modify the Greenspeed X7. The Many-Way clamps are very handy because we fold the trikes to carry them in a small Matrix hatchback. The GS has two accessory uprights clamped to the kingpins. One has the mirror and a wrist rest and one has the throttle and the display on it. Using the quick releases on the M-W clamps, we can easily and quickly remove or reposition the mirror and display, although we cannot remove the display since it doesn't unclip (bad design), so we move it out of harms way. The only criticism I have of these clamps is that there is no independent nut that can adjust tension so that the QR handle can be positioned 360deg. The QR bolt screws into the main clamp. Another feature on the plus side is that the direction of the clamping can be reversed to some extent by removing two bolts, reversing the direction of one side and re-bolting the pieces. The two short, 4-bolt clamps were used to move the uprights away from the seat more because the larger ebrake handles we got with the conversion kit made our knuckles scrape on the tires in tight turns. These were used in addition to the special Greenspeed angled clamps that clamp to the 15mm diameter kingpins on one end and 7/8" tubing on the other, not to replace the Greenspeed clamps. I cut short pieces of the tubing I bought to connect the Greenspeed and T-cycle clamps. The only criticism I have is that the C-C dimension for the short 4-bolt clamps does not appear to be published. It is nominally 2". All dimensions for the 5" clamp are published, but i decided I didn't need it. T-Cycle did not charge me a restocking fee, which I appreciated, although I would not have purchased it if T-cycle were more careful about their spec writing. Overall, I have had very good service, although I sometimes find it unrelentingly cheerful.
11/04/2021
SCOTT B.

United States
Great clamp
very easy to use and stylish to meet my needs
09/03/2021
James W.

United States
Cockpit clamp
I really enjoy these on my trike holds very secure just what I was looking forholds very secure just what I was looking for