Based on the most versatile Finer Recliner Neckrest, the Curve 2. A super comfortable curved memory foam cradles your neck for the ultimate in comfort. Adjustable T-bar support and stem-style quick-release clamp for the absolute best in comfort and versatility.  This model is configured for all Catrike Models.
This neckrest mounts onto the horizontal tube across the back of Catrike frames and comes up to a T-clamp where the Finer Recliner Neckrest is mounted with adjustable Cateye clamps.  This headrest can be mounted dead center, for those who love symmetry, or mounted offset, for trikes with tighter clearances, like the Catrike 700 or Expedition.  With this new combination of T-Cycle clamps and tubes, you'll find limitless configurations and adaptability lending to comfort verging on decadence.
Quick release mount for super simple adjustment and super easy on/off when it's time to put your trike in the car. And, in the spirit of versatility, there's even room for a couple of rear lights.
Customer Reviews
Best Neck Rest
This neck is great, strong enough to stay in place, maybe too comfortable. A bit pricey would be only negative.
12/18/2022
Hee-Choon L.

United States
Great product as always!
The Better Recliner head rest is the best. Now with T-Cycle improvement, it is even easier to attach and detach. Thanks!
07/27/2022
Donald M.

United States
You need one, period.
The take-home from this review is that…you need one. If you ride a trike with a non-adjustable seat, you need one. If you ride a bike with a short seat back, you need one. If your neck hurts, you need one. If it doesn't, but you find your upper body tight from holding your head up, you need one. If you have another version that's not substantial, won't hold adjustment or the pad is too small, you need one. With that as background, I needed one for a combination of most of the above reasons. I ride a Catrike Pocket, with a short, fixed seat. I'm short, but when I first got the trike, I found myself putting a hand between the top of the seat and the back of my neck to reduce the strain. I had looked at the OE headrest, but the T-cycle piece just looked much more substantial, and capable of more adjustment. This proved to be true. The hardware is beautifully finished alloy, with a solid quick release and other stainless hardware. The headrest is available with mounting bits for several trikes. For the sake of discussion, there are basically four parts: The mount, the "post," the "pad," and the "crossbar" to which the pad connects. On the Pocket (and other Catrikes), it mounts to the top bar of the seat, then the post slides down through the QR collar in the mount. The collar provides for easy vertical adjustment. The crossbar mounts to the "post" with two screws, like a handlebar stem. Those screws can be loosened to adjust horizontal positioning and to rotate the pad to your desired angle. Depending on your height, the post will sit either close to vertical, or down parallel to your seat back. Depending on your trike, you will need to watch where the "extra" post sits relative to your rear wheel or other attachments. Not an issue, because once you have it set, you're pretty much done. I made one change: I took the pad off the crossbar and flipped it over. That let me get a better combination of angle and amount of leftover post down behind the seat. I know that's a lot of explanation; how does it work? Absolutely perfectly. Having my neck supported relaxes my neck, shoulders and upper arms, making the ride more comfortable and making steering more precise. I can't imagine riding without it. You need one.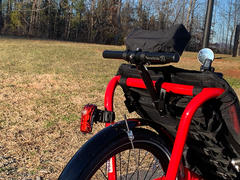 02/03/2022
Rob

United States
Secure headrest
I'm new to triking, and my Dumont did not come with a standard Catrike headrest, so getting a headrest seemed like a great way to enhance comfort when riding in a recumbent position. The T-Cycle headrest construction is second to none, and the modular design means you have tremendous flexibility in how you attach it to the trike, as well as lots of options to attach other accessories (I've attached a old 'seat-post' bag I had lying around). It's also a great location for lights, as the headrest is the highest point on the trike frame. After trying it out for a few weeks however, I'm not sure how people are riding with their head cradled by the headrest, as all vibrations and bumps in the road are transmitted directly into your head, which you can only tolerate for a few seconds at most. The foam obviously dampens this a bit, but it's not a sustainable way to ride. I suspect it comes in handy when you're stopped, or maybe coasting slowly on a smooth surface, but for vigorous riding I can't see how this offers any benefit. But all that doesn't really matter when you consider the primary reason I think a headrest is important while riding a recumbent: getting rear-ended by a car. If a car strikes you from behind, it would almost certainly result in a whiplash injury, or worse: paralysis. The beefy construction of the headrest, and tightening it down correctly on the seat frame, will surely offer some protection in this scenario. Given its robust attachment on the seat frame, and the fact that it can rotate around that attachment point means the G-forces your head would experience are far less than having nothing there. Think about it: your head weighs 10 lbs. A 6-G impact turns it into 60lbs of force ...backwards....on your neck. You absolutely need something there to protect against that. Just look at every new car coming off the assembly line these days...almost every seat (front and rear) has a headrest for this purpose. So for me, this headrest is mostly about providing some protection against a potentially serious injury scenario. It happens to also double as a convenient place to attach things to. Get one.
01/10/2022
Ernest R.

United States
Terra Cycle head rest
haven't used it yet, I have it installed which was really easy just haven't taken a bike ride yet.