Incredibly versatile, the Adjustable Water Bottle Mount can hold up to two different water bottle holders in a variety of heights and angles. Either fine tune your angle for perfect reaching capability, or lock in to one of three preset positions for ease and maximum staying power; then bolt your water bottle holders at a height that works best for you! Bolts in place on any standard bottle mount location. Great for trikes, your bottles can be more vertical so no drips, the Adjustable Water Bottle Holder will make sure your bottle is never out of reach again!
To see a review done by Trike Asylum, Click Here.
FAQ
1. How does it attach?
It attaches to any standard bottle mount. So, any place you could attach a bottle cage, you can attach this adjustable mount that will hold 2 cages. We provide all the stainless m5 bolts you will need for both attaching the mount to your bike/trike and for attaching 2 bottle cages to the mount.
2. What is the angle adjustment range?
The angle of the mast can be adjusted from straight up (perpendicular) down to 45 degrees. The mount can be attached facing backwards or forwards, so the effective range is 45 degrees forward to 45 degrees backward. There are 3 pairs of holes for mounting bottle cages on the mast. Two pairs are down low (where you usually want your bottles to be) and one pair is higher. The higher pair is used to mount the second bottle cage on the acute (inside) angle side when the mast is angled all the way down to 45 degrees.
3. Is it OK to carry other things on the mount?
Yes, as long as they aren't much heavier than a full water bottle. Things like Cage Rockets are a handy way to keep phones, energy bars, etc. close at hand. Also, there are six 5mm threaded holes on the mast you are free to attach things to. We may be offering a computer mounting stub, for instance.
4. I notice it has a curved angle adjustment slot as well as 3 holes on the other side. Can I use the holes if I want?
Yes. The holes on the other side of the curved slot are presets at 45, 67.5, and 90 degrees. We don't expect many people will use them, but we put them there in case anyone ever wants them.
INSTALLATION INSTRUCTIONS
Take a few moments to decide whether you would prefer your bottles to face forward or backward, then install the mount so the adjustment range is in that direction. Wrench access is easiest with the mast at 90 degrees, and without bottle cages installed, so we recommend you wait to attach the bottle cages and adjust the angle until after it's mounted.
After it's mounted, attach the cages and adjust the angle. Adjust the angle and bottle height so you can easily reach them while you're riding, and they are not in the way getting on or off the seat.
You'll need a 3mm Allen wrench for the bolts, we supply stainless 5mm button socket bolts for everything.
 ADDITIONAL INFO
Mounts anyplace you can put a regular bottle cage. Holds 2 standard water bottle cages anywhere from 45 degrees to 90 degrees from the surface it's mounted on. Can be angled forward and back by reversing how it's attached.
Made to hold 2 standard water bottle cages and designed to carry 2 water bottles worth of weight.
Base is slotted to fit any bottle bosses in the standard bicycle range. 5mm threaded holes on the mast are centered on the standard. 3 pairs of holes are provided on the mast so you have both cage height options and to make sure there is clearance so your bottle won't touch your frame if it's on a cage on the acute (inside) angle side even if the mast is adjusted all the way down.
CNC machined aluminum, black anodized and laser marked. We provide 5mm stainless button head bolts for both the frame attachment and the bottle cage attachments. We think the button heads look better and work better because the heads are wider and flatter. Wider works better on slotted things like bottle cages, and the flatter heads give more clearance so your bottles won't hit the bolt heads.
Fits any bike/trike with standard bottle cage mounting bosses. This mount is most suitable for bikes and trikes where the existing bottle cage mount is basically horizontal, and you would prefer that it be more vertical. Can theoretically be attached to an add on (clamp on) mount, but the mount would need to be very strong if you want to run 2 bottles.
Customer Reviews
This mount is awesome!
This is my second one of these mounts. I have one on my Catrike 559 and the second one is on my Greenspeed GT26. This is the best way I can think of to carry two bottles of water without taking up spaces where other accessories can be mounted. I love it!
11/19/2022
David N.

United States
Just right for Catrikes
We were looking for a better way to carry water bottles and found this product for our Catrikes. Works very well for us. We also found Owala insulated water bottles. When mounted in cages attached to the mount, you can just reach forward with one hand, grab the bottle and push a button to open the lid. Great match for this bottle mount.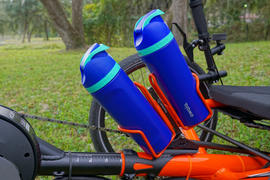 09/03/2022
Rich C.

United States
Awesome, works on Juiced Scorpion Ebike
Been looking for a solution for Juiced Hyperscorpion's unusable water bottle mount. This solves the issue and gives you two water bottle mounts. You should sell these directly to Juiced bikes.
08/30/2022
William L.

United States
Excellent idea and execution
This adjustable bottle mount makes my water bottle more accessible. Plus, it allows for a second water bottle for longer rides. For both it provides a solid base, and I love it.
08/23/2022
Claire B.

United States
Adjustomatic Bottle Mount
Highly recommend! I was concerned about the fit as I am a petite person and my boom is not extended very far but it works perfectly. I attached adjustable bottle cages to this mount and I can carry a Nalgene water bottle and a yeti coffee cup on my morning rides. Perfection!