The Pelso is an undeniably high-end bike with a less-than-high-end idler setup.  Upgrade your ride with top-of-the-line idlers from T-Cycle! 
The Over/Under Idler kit is the less expensive option and provides about 10mm of side to side idler float.
The 23t Power Idler and 15t Return Idler kit provides about 5mm of side to side float. The larger power side idler is a little smoother and provides more chain clearance under the chainstays if you ever go to a big cog 1x11 system. The clamp-on chainkeeper is more expensive and a little bulkier than the simpler stainless version, but it makes chain maintenance and chainkeeper adjustment a breeze. It also lets the idler float inboard a bit more, which helps most chainlines, especially if you have a triple up front.
Customer Reviews
New idler for Pelso brevet. Oliver Absalom Bromley nr London
Most importantly the new idler improved the Pelso Brevet no question, now very smooth and generally a happy free running chain line ! T-Cycle as a business, very switched on, don't miss any detail and I found it easy to find exactly what I needed for my bike. Very fast delivery too. I'm glad to know about T-Cycle and will go to them now for anything to do with recumbents! Oliver
06/17/2022
Jonathan D.

Australia
Pelso idler kit. Over under.
Great quality product as per usual. Definite improvement on original idler which though a little lighter was already showing issue with corrosion around spacers. The new idler kit requires an additional small spacer washer inboard of chain keeper so bullet heads of the chain keeper staunchions clear the carbon fibre frame adequately.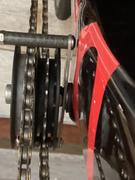 04/10/2022
Jay D.

United States
Pelso idler kit
Definitely an upgrade to the stock idler -- quieter & smoother. Chainkeeper tolerances are very tight so getting it on and adjusted can be challenging. For some, this might be a feature!
11/01/2021
jeffrey b.

United Kingdom
All the way from the USA
Purchased a new idler for my Pelso recumbent. Great help from t cycle. Arrived amazingly quickly in London England. Highly recommend both the idler and the company.