The Catrike Clamp-On Power Idler Kit has a power side idler (either Sport or Elite), a Clamp-On Idler Mount and the chain keeper hardware to let your idler float nicely along. We make this kit for riders who want to eliminate their power side chaintube. If you need another idler to either keep the power side chain from rubbing the top of the sideways frame tube or to reroute the chain under the frame, then this is for you. The mount can be flipped up or down and moved forward and backward as needed.
Customer Reviews
Item is good quality but very hesitant about the shipping company they use took way to long and no updates on tracking
03/02/2022
Nelson L.

United States
Catrike Clamp-On Power Idler Kit
This is my second Idler Kit first had been used on 2 Catrike's (Expedition & 700) had 12,000 mile no issues did what Idler Kit was supported to do. Sold 700 and purchased Catrike Dumont the Idler kit was first purchase. T-Cycle is great place to keep your recumbent style bikes maintained and extra items you may need.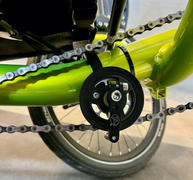 02/08/2021
Horace C.

United States
Return Idler
Reduced chain noise and resistance.
12/07/2020
Steve T.

United States
Works on TerraTrike GT
After the idler mount failed on my GT I bought this kit and substituted a 1.75" clamp for the standard 2.00" clamp. I mounted it just in front of the existing mount on the frame. The difference between the original and this T-cycle unit is dramatic. I used to have a fair amount of chain line clatter and now it wonderfully silent. This idler is outstanding and definitely worth the price.