A full-size shop-grade roll around work stand with lockable wheels!

Work on your trike with the work stand wheels in the full locked or unlocked position, roll it out of the way for storage, or wheel it over to your vehicle for your next ride!  Use the work stand as a turntable to easily work on any part of your trike without having to walk around away from your tools.
Optional set of three super strong magnets can be added to your TrikeTight.   These will enable you to stick a steel baking sheet or other steel container to the stand to hold tools, parts, and other things for you while you work on your trike.  The magnets lend you a helping hand, even while working alone. 
Folds fairly flat so you can either hang it up, lean it against a wall, or easily take it with you in your vehicle.
Manufactured in the USA of only the finest of materials
6061 aluminum tubing
Stainless steel fasteners
Custom CNC-machined aluminum inserts and plates
Custom-formed cradles with a thick durable coating to protect your trike tubes
Heavy duty wheels that double lock when desired to provide the finest stable platform available for working on your trike.
***Baking sheet and tools are NOT included or sold by T-Cycle***
Customer Reviews
01/06/2022
KENNETH R.

United States
SHOP QUALITY.
I bought this piece for my catrike 700, another great idea someone else had found, and revealed on Facebook. I am glad that they did. The stand,and it's ease of use, is a perfect solution to what ever works for almost all trikes. The company is a breeze to associate with as well.I am very happy with this product, thank you so much.
12/05/2021
Anthony Y.

United States
A great addition to any bike shop.
I am extremely happy with my TrikeTight work stand now that I've used it a few weeks. It replaced a custom stand made of pvc tubes that served me well for years. This one, however, has the advantage of accommodating my HP Velotechnik Scorpion Fs26 and my wife's CATRIKE Pocket. The optional magnets allow installing a tray that solves a big issue with parts and tools falling to the ground or being out of reach. I use it daily whether to make adjustments or repairs or simply to clean the trike. The stand also folds flat making storage easy. Having a small workshop in a New York City apartment, storage is important. I highly recommend this work stand; worth the price.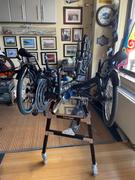 12/05/2021
Rita P.

United States
Excellent
This was bought for a Christmas present and has not been received yet although my husband has wanted one since he started riding recumbents. It was shipped and received in record time. Thank you
12/01/2021
Edna V.

United States
Roll Around TrikeTight Work Stand is great!!
This makes it so much easier to work on our trikes - works well with both the HP Velotechnic Gekko, and the HP Scorpion.
11/13/2021
Jim S.

United States
Works GREAT!
I have been a fan of TerraCycle for years. The TrikeTight is as great as I have come to expect from their products. The fit and finish is what I have come to expect from TerraCycle - GREAT! The instructions are ok. Sone additional pictures might be good. I would add that having a small alignment punch was helpful. For reference, the spacing and size of the mounts works well with my ICE Adventure HD (with suspension). The stand I used previously interfered slightly with the chain during tune-ups. The TrikeTight holds the trike in a way that does not interfere with the chain. For the quality and functionality provided, it is worth the price!