Catrike SeatSide Mount Kit (Seat Attach)
One of the great things about triking is how nice it is to have everything right at hand as you roll along. With a SeatSide mount, you can have all sorts of things close at hand. The Catrike SeatSide Mount lets you carry bags, water bottles, cameras, all sorts of things, right by your side. Snacks, phones, lip balm, you name it, now you can keep it all within reach while riding. This version of the SeatSide Mount for Catrikes attaches to the seat frame. We make other versions that attach to the main frame tube. We recommend this version of the mount for people that simply want a good sturdy place to mount things beside the seat. If you want maximum versatility in where things are located or need quick on/off removability, check out the main frame mounted version.
FAQ
1. How does it work?
Specially machined clamps attach to the seat frame. For Catrikes that don't fold, they go on the straight part under the seat between the main tube and where it bends up. On Catrikes that fold, a different set of clamps go on back of the seat near where the seat angle adjusts. A support tube comes out sideways and over to where the accessory mounting tube needs to be. The end of the support tube has a T clamp that holds the horizontal accessory mounting tube beside the seat. The accessory mounting tube is long enough to hold whatever you'd like.
2. I've seen ICE trikes with something similar. Is this like that?
The stock ICE side mount is vaguely similar, but it has a smaller accessory mounting area than the ones we make and is only adjustable left/right. On our mounts, everything is clamped, not welded, so you can adjust things up/down, left/right, and forward/back. The space provided to mount accessories is about 3 times as long. If you want to really customize it, you can shorten any of the tubes, or even substitute another of a different size. We make a version for ICE trikes, too, of course, in which case the mounts would be very similar. On the ICE trikes, the tube that you attach to is behind the seat, rather than under the seat, so how you get from there out to the side of the seat is a little different.
3. Which side does it go on?
Either, or both, it's up to you. If you have a folding Catrike, we make a double mount that does both sides with one mount and one set of seatback clamps. If you have a non folding Catrike, you have to use two separate single sided mounts to get one on each side.
4. Will this work with any bag?
Yes, the tube where the accessories mount is 7/8in (22.2mm) diameter, so pretty much anything designed to mount to a bike or to handlebars can attach there.
5. What can you put on it?
Anything that you can attach to a standard 7/8in (22.2mm, standard handlebar size) tube. Handlebar bags, water bottles, phones, things like that. The supplied accessory mounting tube is 11 inches (28cm) long, so you have lots of room. We have longer tubes if you really want to go crazy.
6. How much weight can it hold?
A lot, but obviously it has it's limits. We're saying 10lbs (4.5Kg) to be on the safe side. We do recommend that if you want to carry living things (like pets) that you do so carefully.
INSTALLATION INSTRUCTIONS
Installation is straightforward.
If you have a non folding Catrike, you first attach the (long) clamps to the seat frame under the seat. If you have a folding Catrike, you attach the (short) clamps behind the seat.
Next, you assemble the accessory mounting tube to the T clamp on the support tube.
You then slide the support arm into the clamps on the seat and adjust the system to the left/right, up/down, and forward/back position you'd like.
You're ready to install your accessories!
ADDITIONAL INFO
We include a user installed catchpost in case you want to use a handlebar bag that is designed to index to the handlebar stem on an upright bike. Some handlebar bags have a cable or an arm that is designed to catch on a handlebar stem to keep the bag from rotating down. The catchpost provides a place for that to connect.
We make a lot of tubes and clamps that are compatible with this system if you need to do customizations. Check out the Seatside Mount Hardware and Cockpit Mount Hardware pages for more information.
Clamps are CNC machined aluminum, anodized black, with all stainless fasteners. Tubes are black powder coated aluminum with removable black end caps.
Custom configured to fit all Catrikes (and possibly Musashis, haven't tested that yet).
Customer Reviews
09/22/2020
Eric T.
United States
Works perfectly
Installation was simple, but did require a lot of adjusting to get perfect. Nice place to mount a bag without getting in the way of your arms, and now I can access my camera without stopping and getting off the trike.
08/18/2020
Charles C.
United States
07/31/2020
Gary M.
United States
Seatside Excellent
Very easy to install and fun to configure It to be where I want it to be. In fact it is so easy I keep changing it to try different positions (I'm addicted!). The best part was adding the Arkel bag with T-cycle clamps. I was able to adjust the SideSeat such that I can easily reach the bag and it does not stick out beyond my front wheel - nor is it in my way either. The only improvement I could see is to lengthen the arm for mounting the bag. If it was just a bit longer I could attach another reachable item or two (a bottle cage or a funky horn). It turn out to be just a little to short to add anything but the Arkel bag. But I was able to attach a good lock to the connecting arm section behind my seat! Overall an excellent product well made and secure!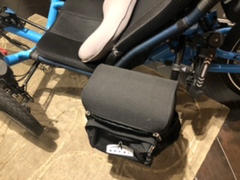 04/03/2020
Cathy W.
United States
Works perfectly!
We needed a mount for a bar bag and this one worked perfectly.
01/03/2020
Richard H.
United States
Potentially useful
I haven't used it yet since I've not ridden my trike that much this winter. It is a welcomed addition to existing storage areas on the trike which are minimal. Since I have a folding trike (559) I found it useful to remove the bag when the trike is folded. I think it will be very useful in the long run.