Catrike Clamp-On Return Idler Kit
The Catrike Clamp-On Return Idler Kit comes with a return side idler (either Sport or Elite) and, like the power, a Clamp-On Idler Mount, all necessary chain keeper hardware needed to float a return idler anywhere on a Catrike that you'd like. Most people put their floating return idler just in front of the right side frame tube. Depending on boom position and chainring sizes, the idler can handle the chain going over or under. It can take some serious finagling to get just right, but for those people looking to eliminate chaintube, this kit can be a big help.
Customer Reviews
06/25/2021
Michael L.

United States
All Catrike's should come this way.
Easy to install. Gives a clean feel and performance improvement to the drive train. Have 5 trikes all have t-cycle upgrades and I've installed them for friends. Only wish Catrike's came with drops for them clamps are clumsy but better then plastic tubes.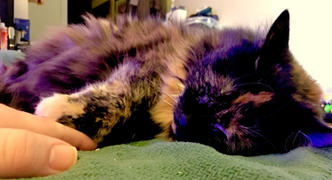 05/26/2021
bruno l.

Canada
very good product
The return idler great upgrade on my catrke expedition ...no more noise from the chain tube and very smooth for long long ride .
LG
05/21/2021
Lance G.

United States
Love the smooth quiet ride
Since installation on my Catrike 700 a week ago, I've ridden about 70 miles. I find the chain whisper quiet now. It should be noted that after doing at least a thousand miles on Zwift on a TacX Neo 2T off wheel trainer since I took possession in February, I had already begun to see significant wear on the factory-installed chain tubes. This idler is a much better solution. For the price, I am surprised it doesn't come stock on the trike!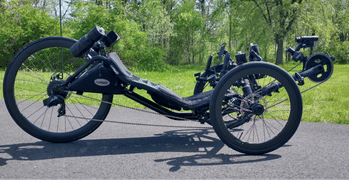 JK
05/13/2021
Jim K.

United States
Tubes Be Gone - Catrike 700
I used the Catrike Clamp-On Return Idler Kit to replace all but 4" of chain tube on my 2020 Catrike 700. The weld gusset on the new 700 is substantial, so the idler needed to be mounted behind the crossmember. The chain continues to return through a short 4" tube mounted to the power idler. The result is a substantially smoother and quieter pedaling experience. I did not realize how much noise the chain made rattling and scraping through the stock tubes until it was gone.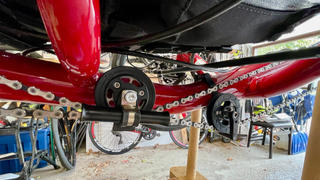 03/25/2021
Noel P.

United States
Should have installed one years ago
I finally got rid of those noisy, dirty chain tubes and put a Clamp-On Return Idler on my Catrike Expedition. What an improvement. Just from the looks you can see that it's a precision-made product, and that precision also shows in its quiet action. I'm recommending it to every Catrike rider in my group. Thanks, T-Cycle!