The heaviest duty clamp we offer!  It's the clamp that holds the Battery Mounts, the SPRING Mini Fairing Mount and the WINTR Fairing Mount in place!  Sporting twin 6mm bolts, this 5/8" thick beast stays where you put it and holds what you need it to hold. Made in an ever-growing list of sizes, there's a clamp for nearly every tube on the market!
Customer Reviews
05/11/2021
James M.

United States
GPS Tracker Bracket
Acquired a Galeo GPS Tracker, and it is best with the tracker pointing upwards. This required me to locate a 2 inch square bracket - and there are not many options out there. Found the T-Cycle version and sent in a few emails to inquire about it before purchase. Ended up measuring the 64mm placement, which for the tracker's water bottle mount parameters. There is just enough room to drill two 11/64" holes so I could tap an M5 thread. Worked out great!! Only thing I need to do now is find spacers to fill the gap. Would of preferred a 2 inch surrounding clamp with no bolts exposed.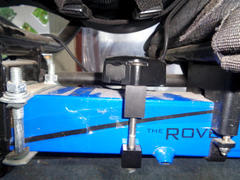 03/24/2021
Mike D.

United States
Great product
Worked perfectly
03/09/2021
Northwest R.

United States
Good stuff
Great attachment point for batteries or whatever.
08/24/2020
John D.

United States
Frame Clamp
Easy to order, well priced, quality component.
08/21/2020
Tom R.

United States
Frame clamp
Excellent worked as intended. High quality