Pedal not included; Does not work with Morse Taper Pedals

Do you have a "bad" knee?  Maybe one leg just doesn't have the same range of motion that the other leg does.  The Easy Knees Pedal Swing is designed to help you find the perfect adjustment for each leg, instead of compromising on an adjustment that isn't really perfect for either leg.
The Easy Knees Pedal Swing comes as a kit, including one crank shortener and one pedal swing.  Pedal swings are NOT used in pairs.
It's kind of hard to imagine how the swing works, but if you've ever noticed that it's hard for one of your knees to bend as far as the other one or you've noticed that one knee has a hard time straightening out all the way, this is for you.  This allows you to maintain a "normal" pedal stroke on your "good" leg, and a modified pedal stroke that will be more gentle for your other leg.
Feel free to reach out to us with questions.
Customer Reviews
I can ride my bike again!
After many years of knee pain and lack of range of motion I can ride my bike again, I had tried just shorter cranks and none could do what these did. I was scared at first it would hurt and it didn't, so very worth the expense. Thanks
08/16/2022
Rich p.

United States
Back to enjoying mountain biking
After my knee replacement I only got back to about 95 degrees of bend and riding my bike was not easy. After I installed the pedal swing it made it so much better to ride, now I look forward to biking again. Thanks
08/04/2022
Gerrit P.

United States
07/19/2022
George F.

United States
I can ride again, after 25 years!!!
The crank shortener was very easy to attach to my Trek XCaliber, it is tight and secure. As well, the pedal swing was easy to attach to the crank shortener and works exactly as described. I had a total knee replacement almost 20 years ago, and my 'new' knee does not have the flexibility to allow me to flex enough to keep my foot on the pedal on the upswing. The T-Cycle kit works awesome. I don't even notice it is there, it works so naturally. Don't wait, just get yours!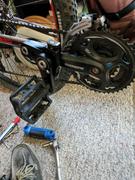 06/18/2022
Charles R.

United States
Easy knee pedal works perfectly
The unit works perfectly and is very well made. Although it seems like it would take a while to get used to, it felt very natural after about 30 minutes. Only drawback is that you can't pull up on the pedals, but with bad knees, you probably don't want to.