Note: Manyways Clamps are plenty strong for holding accessories, but they are NOT strong enough to serve as an exit assist.
Customer Reviews
08/09/2021
Dave C.

United States
Manyways clamp is a problem solver
This is an aptly named clamp. Very well machined and super versatile.
07/27/2021
Gerald S.

United States
Anyways Clamp (QR)
Incredibly good quality and does exactly what I need it to do without worrying that it will break and drop my accessory.
04/15/2021
Madelon S.

United States
Didn't work for me
products I receive from t cycle are usually great. However in this case, the position of the release clamp still hits my back rack. So it appears I'll have to choose between using the neck rest or the rack. Or I'll have to place it off center just like I did the old mount. Making this a miss for me. However the quality of the product is certainly up to their standards.
06/03/2020
John P.

United States
Not so many ways
I thought there might be more options for the alignment of the clamps. Main issue, and I knew this ahead of time, is that it would be more useful to me if the bolt clamp was 3/4".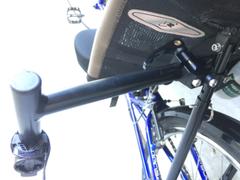 Hey John, Sorry to hear the clamp isn't delivering. What is it you're trying to do here? We might have other ways of helping out! Yours, Caz
03/05/2020
Maryann K.

United States
Manyway clamp
As always I received the item fast. I wasn't sure if the clamp would work and was asured that I could return it. The clamp works great for what I needed. I'm sure I'll be ordering something else.