Seat Strut Clamps work hard to bring your bike several benefits so that you can sit back and enjoy! Many people get them just for the peace and quiet they provide, but the greatest advantage to Seat Strut Clamps is the dramatically stiffer seat support. Since there's no play in the tubes after you've installed these clamps, the back of your seat will be much stiffer, improving your bike's handling and often noticeably improving your pedal efficiency at the same time!
FAQ
1. Can I use them on my bike? I don't think my tubes have slots, they just have holes for the adjuster pin.
These clamps are designed for use without clamping slots. Each clamp has two collar clamps built into one unit. One of the collar clamps is sized for the outer tube, and the other collar clamp is sized for the inner tube. The outer tube does not have to be squeezed down to grip the inner tube; the inner tube is independently gripped by it's own clamp.
2. I'm a big rider; are these strong enough?
Yes, no problem there. These clamps grip really well.
3. If clamps are such a good idea, why don't manufacturers use them?
Tradition, and cost. And, some manufacturers do use them, on their high end bikes.
4. Are they sold one at a time, or in pairs?
In pairs. It's the only reasonable way to do it.
5. How do I know which one to order?
It's important to know what tubing sizes you have. This isn't too difficult, as the sizes go up in steps of 1/8 inch. If you can accurately measure or guess the size of one tube, you can figure out the other one (it will be 1/8 inch bigger or smaller).
6. Can I use them for anything else?
Any place you want to clamp two telescoping tubes together. We've used them on a garden tool to turn a fixed handle into an extension handle, and it worked great! In particular, the 3/4 inch into 7/8 inch tube combination opens up some interesting possibilities in attaching accessories to handlebars, since handlebars are 7/8 inch at the ends.
INSTALLATION INSTRUCTIONS
A 3mm Allen wrench is required to operate the clamp bolts. Operation and use of the clamps is very simple:
Slip the larger end of the clamp over the large tube and lock it on.
Slip the smaller tube into the larger tube, then lock it in. It is recommended that you ensure that at the smaller tube is inserted at least 2 diameters into the larger tube. This is comparable to or possibly smaller than the minimum insertion requirement on the grenade pins.
To remove and replace the seat easily:
Loosen the bolt on the larger tube 1 full turn.
Slide the smaller tube out of the larger tube, with the clamp still in place on the smaller tube.
When you want to reassemble things, simply slide the smaller tube into the larger tube until the clamp is seated around the larger tube again. Retighten the clamp to the larger tube. Everything is back to where it was.
ADDITIONAL INFO
These clamps are a great replacement for the "grenade pin" style seat stay adjustment found on many recumbents. They let you clamp together two telescoping tubes at whatever length you'd like. The tubes don't need slots or any other special preparation. Simply slide the clamp over the larger tube, lock it on, slide the smaller tube inside, and lock it in, too. There are two separate clamps, one for each tube, built into one handy unit.
If you've ever lost a grenade pin, you know how frustrating it can be to find something to put in there to get you home. You can kiss that worry goodbye. And if you've ever wondered if your seat would be a little more comfortable if you could just move it a little bit, but the spacing between the grenade pin holes is a little much, or you've run out of holes, well, that's gone too. You can set your seat position to wherever you want it in as fine an increment as you'd like.
These clamps slide on, then lock each tube independently. There are separate locking bolts, one for each tube. The tubes don't need clamping slots or any other changes. You can adjust your seat wherever you want it in as fine an increment as you'd like. If you ever take your seat off, it will automatically go back to exactly where it was, because the clamps can stay in place on the smaller tube.
Since the clamps lock the tubes completely, the back of the seat becomes much more rigid. This improves comfort, handling, and pedaling efficiency, all at the same time.
There are three sizes of clamps:

One fits sets of tubes that are 1/2 and 5/8in (12,7 and 15,9mm) diameter (Bacchetta, Burley, Sun, Longbikes, some older Rans models)
The next size up fits tubes that are 5/8 and 3/4in (15,9 and 19mm) diameter (Newer Rans models, WizWheelz/TerraTrike pre 2012 models, and Barcrofts).
The largest and newest sized clamps are 3/4" x 7/8" (19mm and 22 mm) fit the 2012 and newer TerraTrikes and other larger rear strut machines.

Sold in pairs as a left and right set.
Weight: 16 grams.
Available in Black Only.
These clamps are compatible with any bike that uses telescoping tubes that are either 1/2 to 5/8 inch, 5/8 to 3/4 inch, or 3/4 to 7/8 inch. 

Bikes/Trikes with 1/2 into 5/8 Tubes: Bacchetta, Burley, Sun, Longbikes, some older Rans models 
Bikes/Trikes with 5/8 into 3/4 Tubes: Newer Rans models, WizWheelz/TerraTrike pre 2012 models, and Barcrofts 
Bikes/Trikes with 3/4 into 7/8 Tubes: 2012 and newer TerraTrikes and other larger rear strut machines

It does not matter whether the larger or smaller tube is on the top or the bottom. The clamps work either way.
Customer Reviews
Seat Strut Clamps
I've been using these on various bikes and trike for more than a decade. Great stuff!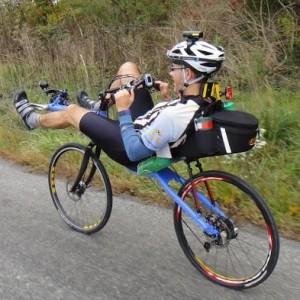 TH
04/04/2022
Thomas H.

United States
04/02/2022
Marty N.

United States
T-Cycle Seat Strut Clamps
Always the best made, high quality recumbent parts from T-Cycle. Excellent customer service, too.
03/23/2022
Prof J.

United Kingdom
Seat strut clamps
Excellent- another great product. Many thanks.
12/04/2021
William W.

United Kingdom
Highest quality!
This is the second pair of these I've purchased - & not because the first ones failed, but because I really wanted the same adjustability and stiffness on a second recumbent!