One of the great things about triking is how nice it is to have everything right at hand as you roll along. With a SeatSide mount, you can have all sorts of things close at hand. The Terratrike SeatSide Mount lets you carry bags, water bottles, cameras, all sorts of things, right by your side. Snacks, phones, lip balm, you name it, now you can keep it all within reach while riding. This version of the SeatSide Mount for Terratrikes attaches to the main tube of your trike for maximum versatility. We make other versions that attach to the seat frame. We recommend this version of the mount for people that have a 3.X, Tour, Tour II. etc. with the seat more than half way forward. On the 3.X and Tour, the handlebars come in right to the side of the seat when the seat is in the forward half of it's range, so we recommend the frame mount version for those trikes when the seat is forward. This mount can be used on any Terratrike except for the Rover and the Edge. Since this mount attaches to the main frame, you have a lot of positioning options. This mount also includes the quick on/off option so the main arm can be quickly and easily removed and reinstalled for folding or transport. If you plan to go to a double sided mount in the future, order the OneBolt Release version for a super simple later upgrade. We are planning on making a version of this mount for the Rover.

**If you own a GTS, please contact us before ordering**
FAQ
1. How does it work?
A specially machined clamp attaches to the main tube just ahead of the chainstays. Smaller clamps sideways on the frame clamp hold a support tube that comes out sideways and up from the main tube. The end of the support tube has a T clamp that holds a horizontal accessory mounting tube. The accessory mounting tube is long enough to hold whatever you'd like.
2. What is the advantage of this over the version that attaches to the seat frame?
There are two important advantages. First, since this version doesn't attach to the seat, it can be adjusted independently of the seat position. The seat mounted version moves along with the seat, so if you have the seat near the front of it's adjustment range, it may not be possible adjust it far enough back to avoid the wheel or handlebars. This frame mount version has more positional freedom, even if the seat is all the way forward. The second advantage is if you want a double sided mount, it is less expensive to configure it this way because the central frame mount is shared.
3. How adjustable is it?
Very. Since everything is clamped, not welded, you can adjust things up/down, in/out, and forward/back. If you want to really customize it, you can shorten any of the tubes, or even substitute another of a different size.
4. Which side does it go on?
Either, or both, with the double sided option. It's up to you.
5. Will this work with a other trikes?
Yes, this mount will most likely work on other trikes with 2 inch round main tubes. We make a range of main tube clamp sizes, email us for more information about what's possible.
6. What can you put on it?
Anything that you can attach to a standard 7/8in (22.2mm, standard handlebar size) tube. So, most anything that's made to be mounted to a bike. Most people attach handlebar bags, water bottles, phones, things like that. The supplied accessory mounting tube is 11 inches (28cm) long, so you have lots of room.
7. How much weight can it hold?
A lot, but obviously it has it's limits. We're saying 10lbs (4.5kg) to be on the safe side. We do recommend that if you want to carry living things (like pets) that you do so carefully.
ADDITIONAL INFO
The mount can be set up on the left side, the right side, or both sides. Attach the frame clamp to the main tube just ahead of the chainstays from the rear wheel. Insert the support tube into the sideways clamps on the frame clamp. Insert the accessory mounting tube into the T clamp, then sit in the seat and decide where you'd like the accessory mounting tube to be. Tighten all of the clamps, you're ready to go!
The OneBolt Release option allows you to quickly and easily remove nearly everything for folding and/or transport. With 1-2 turns on a single collar clamp bolt, the main pieces slide out, leaving only the frame clamp and a short tube left on the trike. Reinstalling is just as easy, just slide the main part of the mount back in and tighten the one bolt. The OneBolt Release option replaces the Y clamps that hold the support tube to the Frame Clamp with larger ones and adds an intermediate slotted tube with a collar clamp. The intermediate tube is slotted at both ends to enable the double sided option.
The double sided option shares the frame clamp and intermediate tube, and adds another collar clamp, sideways support tube, T clamp, and accessory mounting tube. That's why when you pick the double sided option, you automatically get the OneBolt Release.
We include a user installed catchpost in case you want to use a handlebar bag that is designed to index to the handlebar stem on an upright bike. Some handlebar bags have a cable or an arm that is designed to catch on a handlebar stem to keep the bag from rotating down. The catchpost provides a place for that to connect.
We make a lot of tubes and clamps that are compatible with this system if you need to do customizations. Check out the SeatSide Mount Hardware and Cockpit Mount Hardware pages for more information.
Clamps are CNC machined aluminum, anodized black, with all stainless fasteners. Tubes are black powder coated aluminum with removable black end caps. The Heavy Duty Frame Clamp included with this kit is 2 inches.
Fits most Terratrike trikes with round main tubes. We are working on a square tube version.
Customer Reviews
02/22/2023
Lee A.

United States
Side mount bag holder
Fabulous product! Easy to install and holds my side bag perfectly.
08/26/2022
Pierre C.

United States
Great produce
It works exactly as advertised.
07/26/2022
sean p.

United States
Excellent gear carrying solution
Easy to install, with a variety of mounting position options on my Rambler. It's a sturdy mount and has had no issues keeping a handlebar bag up with a six pack in it on bumpy asphalt. The bag sticks out past the wheels, but I plan to trim the tubing down to bring it in closer. Now if only T-Cycle would make 7/8" clamp on components that they recommend for steering components so those of us with direct steer trikes can modify our grip position...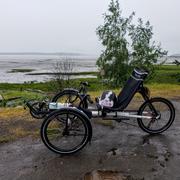 07/16/2022
Ted S.

United States
Seat side Mount Kit
First if you're a trike imagengineer Terra cycle has the essential components to allow you to turn your plans to reality. My wife made a comment she wished she had a wrist rest on her TerraTrike. So I order the seat side mount kit and a couple of 4 bolt clamps as the support structure to design and add a wrist rest for her left arm. The mount has plenty of strength to support her arm and is out of the way to not obstruct the steering. Great job to TerraCycle for the quality products so we add our own designs to make cycling more enjoyable.
06/04/2022
Hugh G.

United States
easy install, holds firm
Purchased side-seat mount for green speed GTT. Team at Terratrike recognized different sized main tube clamp would be needed and contacted me before shipping, to confirm and arrange for substitution. Mount is surprisingly light weight for the degree of rigidity. Easy installation. Holding an Arkel handlebar bag firmly. Stoker happy.