OnePoint Mount to WINTR Mount Conversion Kit
WINTR stands for Weather-Inhibiting 'N Travel Ready.  This is the easy to transfer mounting hardware from T-Cycle that completes a fairing system meticulously designed to keep you on the road no matter what the weather is doing.  Utilizing the power of T-Cycle's exquisite CNC machining, the mounting hardware is stronger and simpler to use than ever before.
Please contact us if you are installing this mount onto an HP Velotechnik trike.
The Conversion Kit includes only the mounting hardware needed to convert an exisiting OnePoint Mount into the new WINTR Mount.  Fairing bubble is
not

included.
For a complete set, check out the WINTR Fairing Kit.
When choosing your Clamp Size, it may help to measure the diameter of your boom using our Tube Measuring Tool, which you can find here: www.t-cycle.com/tubemeasuringtool


Customer Reviews
05/02/2020
B D.
United States
Finally an easy to use, beautifully made mount for my fairing.
This conversion kit did everything they said it would. It was so much easier to install than the old OnePoint Mounting Kit. The parts all fit precisely and look and feel very well designed and well made. Finally my fairing was a breeze to get it perfectly vertically aligned, which was always a headache with the old mounting structure. I have been riding my trike a lot this spring over lots of choppy streets as well as on some bike trails that need repair after a hard winter. With the old OnePoint Mount, my fairing often slipped off to one side or the other due to repeated vibrations or crosswinds. Now with the WINTR Mount, no matter how rough the road or how strong the wind gusts are, my fairing stays perfectly centered. Did I mention, this new mount also weighs less! I highly recommend it.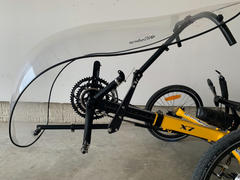 08/02/2019
Joel M.
United States
Winter mount
The mount and cover are great. But your business is hard to contact. I had to replace the boom band with a different size and have been unable to get ahold of you to find out how to return the other one. I know you are busy but could you contact me. Joel 734-626-0775